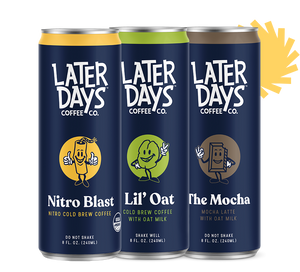 Miss the Fun Guy
What happened to Fun Guy? Is this a seasonal item or did it get discontinued? Is it ever coming back? :(
Love it.
I just can't decide which one I like the best.
The best
Love this stuff, strong and smooth
Phenomenal
Have the Dodgers adopted you all yet? Later Days needs to be their official coffee.
Best cold brew coffee!
First of all, I am very picky when it comes to my coffee! This is by far the best cold brew coffee I have ever had. My favorite is flavor the original. It's so smooth addictive!